A New Website for a Security Company in Lagos
When Link Stride Security Systems needed a website revamp we were highly recommended to them by one of our clients
Security-related products and solutions have been the focus of our client for a while now. They supply safety equipment to schools, hospitals, banks, and other large institutions in Nigeria. The company has just launched a new website that features their latest innovations in security technology! Visitors can learn about all of the different services they provide on the site. This is an exciting time for them – we are happy to be involved with such a successful company!
The website provides an overview of the company's history, services, and products. It also has a section that showcases case studies of some of their previous projects. Visitors can learn about the different security solutions that are available to them – from fire protection to access control! The site is easy to navigate and provides all the information that potential clients need to make informed purchase decisions.
The new website has been designed with a modern look and feel. It is easy to navigate, making it simple for visitors to find the information they need quickly. The site also includes a contact form so that visitors can easily get in touch with the company.
The website was developed by our team to be user-friendly and modern, while keeping in mind that the client is looking for a site which will showcase their large range of products. It was also important that they would be able to update their site without the need for technical support.
We used an e-commerce site to allow visitors add products to a virtual basket or wish list which is then sent to the business to respond with a follow up call or quote.
You can see the final product here.
We are confident that this new website will help the company increase their business.
Other websites we've designed
Trinity Towers
The challenge was to design and build a showcase website for a new mixed-use development in Lekki, Lagos, Nigeria. The site would include video and technical information to help support the marketing of the development.
The client wanted a redesign of their existing website without losing the valuable information they already had online. The site would also allow them to post new properties on the site and market them to potential clients.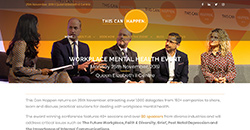 The client wanted a website that would plug into multiple CRM platforms like HubSpot and Mailchimp. They also needed to allow for multiple payment systems to sell tickets from their website.
Let's get your project started