How Kitchen Pastries can use their website to attract new customers
Kitchen Pastries, a small catering business in the heart of Enugu, Nigeria, needed a new website. They came to us with an idea of what they wanted, and we took it from there.
Introduction
As a small business, Kitchen Pastries needed to find new ways to attract customers and introduce themselves to a wider audience.
We designed their website with three goals in mind: to introduce the business to potential customers, to provide information about the products and services offered, and to make it easy for people to order celebration cakes, pastries and small chops online.
Who is Kitchen Pastries?
Kitchen Pastries is a small business owned and run by Ifuoma Ezechukwu, that specialises in making pastries and desserts. They make everything from cakes and cookies to small chops and show-stopping wedding cakes.
The Benefits of a Website for Kitchen Pastries
A website is not a luxury, it's a business necessity. Whether you're new to the world of online commerce or have been around since the internet's early days, sites are crucial to your success. It doesn't matter if you're selling products in person or online, a website is an excellent way to reach more customers and grow your business.
There are many benefits of having a website, but here are the top three reasons why Kitchen Pastries needed one:
A website makes it easy for customers to find you
In today's world, people use the internet to find everything they need. If you don't have a website, potential customers may not even know you exist. Kitchen Pastries does have a sizeable following on social media but not having a website means it is difficult to replicate the same presence online as their bricks and mortar offering. A Google search for "bakers in Enugu" will only show Kitchen Pastries in the map results but in a few months and with proper SEO practices, we expect to see their website listed in the top results.
A website gives you a professional image
Having a website shows that you're serious about your business. It gives you a level of credibility and professionalism that can help you attract more customers.
As the gig economy takes hold and more services are available online, a website ensures that Kitchen Pastries doesn't appear to be another hobbyist on Instagram but a serious and credible business. If you're not sure how to create a website, you can always contact us like Ifuoma, did to get started.
A website helps you stay competitive
If your competitors have a website and you don't, you're already at a disadvantage. A website is a great way to level the playing field and compete with other businesses in your industry.
How can you use your website to take orders and payments?
A website is a great way to take orders and payments from customers. You can include a shopping cart on your site so customers can easily purchase your products. You can also accept payments through your website, which makes it easy for customers to pay for their orders. Plus, by taking orders and payments online, you can reach more customers than you would if you were only selling in person.
We help our clients set up their online stores on Wix or WordPress using Woocommerce and even set up payment integrations like PayPal, Stripe and Braintree. In Nigeria, as these systems weren't available we were able to use local solutions such as Flutterwave and Paystack to help Kitchen Pastries get paid online with funds going directly to their bank in a safe and efficient manner.
What other features can you add to your website to make it stand out from the competition?
There are many other features you can add to your website to make it stand out from the competition. You can include photos and videos of your products, write blog posts about your business, and add a customer testimonials page. You can also add an FAQ page to answer common questions about your products.
We are working with Kitchen Pastries to develop a content marketing strategy to include regular blog and social media posts.
Ways to use social media platforms to grow your customer base
Social Media is a great way not only to reach more people with your message and products but also to create brand awareness and have clients interact with you in more ways. Kitchen Pastries already has a healthy social media presence on their Instagram account so we just made sure that this was joined up to the website to give potential customers a "landing site" to capture their attention and convert them into buying customers.
In conclusion
If you haven't already, it might be time to consider investing in a website for your business as Kitchen Pastries did. A website is an invaluable tool that can help bring new customers into the fold and grow your customer base exponentially with minimal effort on your part. Websites also provide a valuable marketing opportunity by allowing you to reach more people with your message.
If you're not sure where to get started, contact us today for a no-obligation chat.
Other websites we've designed
Trinity Towers
The challenge was to design and build a showcase website for a new mixed-use development in Lekki, Lagos, Nigeria. The site would include video and technical information to help support the marketing of the development.
The client wanted a redesign of their existing website without losing the valuable information they already had online. The site would also allow them to post new properties on the site and market them to potential clients.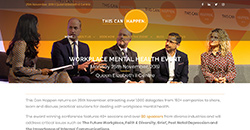 The client wanted a website that would plug into multiple CRM platforms like HubSpot and Mailchimp. They also needed to allow for multiple payment systems to sell tickets from their website.
Let's get your project started