SEO – Search Engine Optimisation
Neunetworks demystifies SEO and helps get your website rankings higher on search engines like Google
Bring the right people to your website
Let Neunetworks Digital help bring the world to your website. We can develop an SEO strategy that brings the right people to your site with a clearly defined goal in mind. Whether that's booking a table, making a purchase or signing up to your services, we can help you develop your site content so search engines (and people) can find what they are looking for quickly and easily.
Keyword research
The cornerstone of SEO is about what words or phrases potential customers use to search for businesses like yours.
Learn More
Firstly we will look at what words and phrases are relevant to your marketing goals. These words and phrases are called keywords and include 'long-tailed keywords'. Long-tailed keywords are longer expressions potential customers type into search engines or speak into smart devices like a smart speaker, or telephone.
Once we have a list of these keywords, we move on to the next step: competitor analysis.
Site audit
If you have an existing website, we will go through all the things that could make it perform better in searches and make recommendations on how to fix them.
Learn More
Your site content and structure is central to your SEO strategy. If your site isn't 'SEO friendly' then any investment in paid advertising would be money down the drain. We perform a site audit that can identify what improvements and refinements can be carried out on your site in terms of the structure, content and inclusion of keywords. We will also identify anything that search engines might take exception to and recommend steps to fix them.
Competitor analysis
There could be many other businesses out there competing for the same customers. We can help you get in on the action.
Learn More
We use various tools to track how your competitors use social media and keywords that help their content perform favourably. We then analyse the results and see how we can use this information to give you the edge in developing your SEO strategy.
Content Strategy
We will then come up with a content strategy that is built on the keyword research, competitor analysis and site audit to give you a roadmap to create content.
Learn More
Your content strategy will include a content plan based on all the research and evidence gained from the audit, competitor analysis and keyword research. It will determine what content needs to be created, when it needs to be published and which channels will be used.
Recent Work
Check out some recent examples of our work.
Trinity Towers
The challenge was to design and build a showcase website for a new mixed-use development in Lekki, Lagos, Nigeria. The site would include video and technical information to help support the marketing of the development.
The client wanted a redesign of their existing website without losing the valuable information they already had online. The site would also allow them to post new properties on the site and market them to potential clients.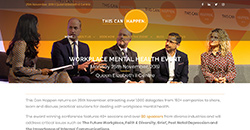 The client wanted a website that would plug into multiple CRM platforms like HubSpot and Mailchimp. They also needed to allow for multiple payment systems to sell tickets from their website.