Teams for teams
Microsoft Teams has been a game-changer during this pandemic, keeping businesses running and people connected. Find out how it can help you.
If you run a business, small or large or have a workforce spread geographically, then you need Microsoft Teams.
This powerful communication and collaboration tool allows you to make voice and video calls, send instant chat messages and share files with your colleagues or even people outside your organisation.
Teams also allows you to create er… teams where you can have private conversations and share files with just the members of that particular group. Where this platform ready holds its own is the number of Integrations you can plug into it. If you handle multiple projects you can add Jira, Trello, Asana or Microsoft's Planner to individual tabs in the Teams app.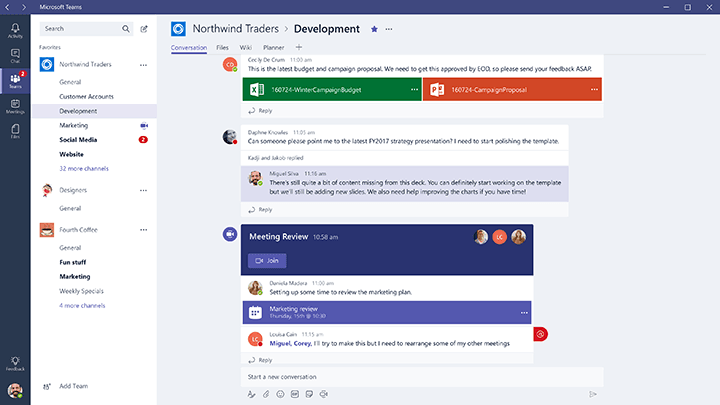 Let's say you have a business with multiple locations, how do you bring people together? Teams allows you to schedule online meetings much the same as Skype. This means you can share your camera and your screen. As it allows you to connect with people outside your organisation it saves you money on subscription video conferencing.  Throw in other Office 365 apps like Word or a virtual whiteboard and everybody can contribute simultaneously to writing a document.
Teams can be accessed through a desktop app, on Android or iOS so you are always connected.
You can get Teams through an Office 365 subscription but if you are unsure how to roll it out or administer it, get in touch.
Case study – Crofton Park Baptist Church.
Crofton Park Baptist Church is a small community church in Brockley, south east London. The church took advantage of Microsoft's 'Not-For-Profit' offer of Office 365 and this came with Microsoft Teams. The leadership can now conduct meetings with trustees online and arrange for face-to-face prayer requests. It also allows them to create virtual subgroups for the different departments that make up the church such as the youth outreach and worship teams.
Outlook focus mode is a great new way to boost your productivity by only showing the email accounts you need to see according to what you are doing.
Find out how creating and publishing content regularly such as blogs can improve your search rankings in Google.
Wondering how you can make the move to take your business online? Read on to find out how to create a professional eCommerce site