The problem with DIY websites
DIY websites may see a great idea but if you don't know what you're doing, your website can quickly become unmanageable.
I remember years ago at a networking meeting there was a web designer speaking passionately about the evils of templates in web design and how his business only catered for bespoke and beautiful websites. This was back in the glory days of Flash intro pages and loading screens.
Fast forward a decade and we now know that nobody really cares how good your website looks, they just want to know if it works and can they get the information they came for or buy that scarf without lengthy forms?
It's no wonder that DIY sites are doing so well because they make it seem easy to set up your own website without the need for a web designer. Truth is, despite what they promise in their sales patter, you will need an expert eventually or you will end up with a site that's clunky, stale and isn't bringing in any business.
Web design isn't just about how good a site looks, it's also about how easy is it to navigate, understand, how fast it loads and how easy it is for your visitor to complete whatever task they came to your site to do.
My advice for anyone using DIY sites such as WIX or Squarespace is to speak to an expert first and have them set it up for you. After that, when they've happily handed the site over to you, feel free to add new pages, tweak photos or add a new product. You'll save yourself a lot of pain and money in the long run.
These are the questions you should ask your 'expert' before you design anything. Actually they should ask you if they know their stuff:
Who do you want to visit your site?
What do you want them to do when they arrive?
What parts of the site do you want to update regularly?
What technical skills (hopefully none) will you need to do the updates?
Once you have your answers you should be able to get an inexpensive solution that works for your business. You can take a look at using content management systems (CMS) like WordPress, Drupal or Joomla. They make updating your site really easy and if they are set up right, you can make changes with minimal effort.
Trinity Towers
The challenge was to design and build a showcase website for a new mixed-use development in Lekki, Lagos, Nigeria. The site would include video and technical information to help support the marketing of the development.
The client wanted a redesign of their existing website without losing the valuable information they already had online. The site would also allow them to post new properties on the site and market them to potential clients.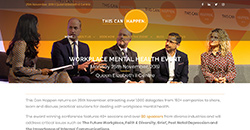 The client wanted a website that would plug into multiple CRM platforms like HubSpot and Mailchimp. They also needed to allow for multiple payment systems to sell tickets from their website.